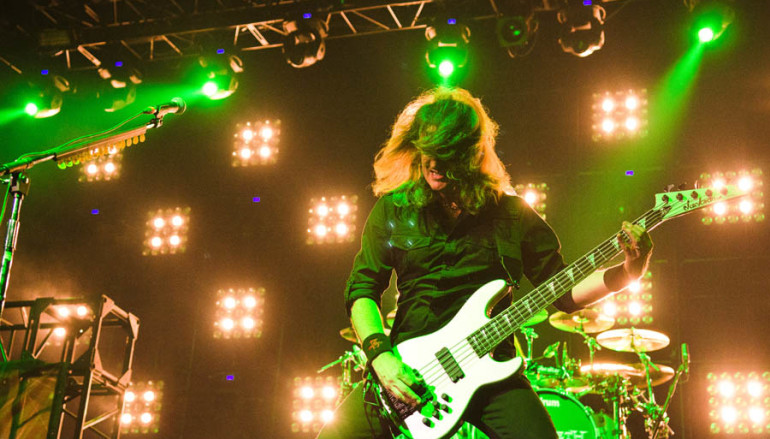 Dave Ellefson (Megadeth): Mega-brother
Goods things are addictive. Such as Megadeth playing in Russia. This June they came back just one year, or even less, after their previous gig in our country, which was a double bill with thrash megastars Slayer. Now Megadeth were on their own, but with the new material from their recent studio album, recorded – for a first time in a long run – with a founding member, bass guitarist Dave Ellefson.
We had a chance to meet Dave The Junior right before the gig on June 25, 2012, backstage of the Moscow club «Stadium Live». Amiable and outgiving, seasoned thrasher shared with us his thoughts and impressions on his come-back to Megadeth, on the working process and friendship with Dave The Senior. Besides, Dave Ellefson talks about how working on the new album «Th1rt3en» (2011) reminded him of the times when they've been recording Megadeth's alltime-classic «Countdown To Extinction», and why on his free time he often stays away from guitar practicing, preferring… his video camera.
How is the tour going for you?
Tour is going very well & it's funny, because I used to think of a tour as being in europe, in USA or in South America, but to me now the tour is just the ongoing thing we do, because we don't necessarily tour just around albums anymore. Touring is like a lifestyle of ours, so we are like always on tour.
Yeah, and that is why I'm asking do you love it as a lifestyle?
Yeah, and it's cool as a lifestyle, it was always cool as a lifestyle. I'm not one of these guys who always gets on the road & can't wait to go back home. I mean I have life at home, with my family & I miss them, but I love being on tour! And this is what I want to do!
And you are playing the record several nights a week, I mean the album, how is it for you? I mean what do you love about the record and what parts may be need a room for some perfectionism?
Are you talking about playing «Countdown to Extinction» or the recent one? With «TH1RT3EN» we are playing some of the songs, we are not playing the entire album top to bottom. And it's funny because some songs really stand out as hit singles, like «Peace Sells…», «Symphony of destruction», «Sweating Bullets». And «Public Enemy No.1» is just one of those songs. It's just every night we play it, it just feels good. It's a song people really get it, whether they hadn't even heard it before or whether they've been a long-time Megadeth fan, it's a hit and it hits people right away!
And your come back, how was it for you? Was it easy or not very?
It was very easy, so easy it was unbelievable, you know. It was one of those things… Well, I stayed up on the music while I was away, so I knew the parts. And so come back was pretty easy, because Dave and I, never had played some of the «Rust in Peace» songs before, so it was kinda challenge for us to play those again. And it felt good to go out there and play that album, because it really put all the nicest way. You know Megadeth went through a lot of transitions: lots of lineup changes, we went through a lot of musical transitions, with «Risk» and «The World Needs a Hero» and different albums. So it was cool to come back again and kick everyone's ass with «Rust in Peace» again. And Dave and I could go out together and look good and play good and really own it, you know. Sean and Chris are fantastic musicians and they really fit the mold of Megadeth. So all the pieces were in place, so it was what I have to really do is just walk right back in and just fell into place instantly.
And what is it for you, the new album?
For me the new album has a couple of different pieces of significance. Number 1: it's the first record I did coming back to the group. It was fun when we got to do the «Rust in Peace» album tour: it was a celebration, it was an easy way to come back, because we were performing songs that we all played together, I mean, me & Dave had been playing together before and that our fans knew. And then to go back and start the creative process a year later was nice, because we got the chance to get to know each other again and this lineup of the four of us, we got to learn how to play together. So when we were in there to make «TH1RT3EN» we were really cohesive as a band. And I think the band always makes its best records when it's unified. and yeah, also on the road. You know even «The Countdown to Extinction» — we wrote a lot of that material when we were on the «Rust in Peace» tour. So we were very cohesive when we went into the studio with the «Countdown», we were very much united as a band. And that's the same kind of feeling that was coming back for the 20th Anniversary «Rust in Peace» and going into making the «TH1RT3EN» album.
Awesome, and I think that is exactly the feeling you like in so to say the new Megadeth for you.
Yeah, I think that''s wonderful! Not many bands get to be around this long — for 30 years.
And people change a lot through those years…
Yeah, they do change a lot, and it's a hard thing and we went through this, because when Dave and I met, I was 18 and he was 21, we grew up together, but you know… money, drugs, women, songwriting — all kinds of things split bands up, but we managed to survive that and it was very difficult for a lot of years. And then getting married, having children and you start a life separate from a band, and those are things that are not easy to navigate through. So coming back was very nice, because Dave and I, we really have similar lifestyles: we're both married, we both have to kids, both a boy and a girl, and we are committed to our family life and we are comitted to Megadeth life, so he and I work really well together. Even that we are 2 different people, and that's the beauty of Megadeth, we are both named Dave, but we do totally different things, and to me it's the blueprint of Megadeth — that Dave & dave combination, you know. And that ia not to diminish Chris and Sean (Broderick & Drover — K.M.), because Chris has filled the role that I dont think anyone has been able to fill since Marty Friedman. And Al Pitrelli was great, Glen Drover was a great guitar player, but there's something special about Chris, and the fans have grabbed under him and that's hard, not easy to do, but Chris has it, that's the magic there. And Sean, he just gets Megadeth, he grew up listening to that music, he sits behind the kit, he knows the songs, he really just has metal in his blood. And that's really awesome thing for our drummer to have, because he's really the engine who drives the machine for us.
And what is your ideal of a metal song, all in all?
My ideal of a metal song… you know it's funny. We've been talking about this between us on the way over here today. A good song is usually a beat, a melody and 10 good words. Right? because more than that it would just wash out from everybody's head!
And which song is the most touching, the most moving for you — from the new record and from the whole legacy?
You know, from new songs, probably there's one song I like a lot — and it is «Black Swan»! And I also like the lyrics to «TH1RT3EN», it's really cool! as far as past songs go, A tout le monde is always a very touching song and also a song like «Holy Wars» which just kicks everyone's ass, you know, and that one is always fun to play too.
And if technically which song is the most favourite for you to play, including easy or difficult ones?
New song or an old song? If one of each… I'd say «Symphony of destruction» is an easy one, it's fun to play, because it's simple. And you dont have to think about it so much and you can really communicate with the audience, more like a performer. And then… You have a song like «Hangar 18», which is… yemm… is very evolving, very detailed… And at the song I sometimes think may be I should have written a different bass part for it?! Because it's very very difficult to play, hahaha… But it's also one of the things which is a landmark signature of Megadeth, it's a proficience progressive nature of a lot of our music!
This summer you played a lot at summer fests, how do you like the atmosphere or you enjoy the solo gigs most?
Oh, I like fests very much, I wish there's one every day & we can play at it, because there's so much fun! And what's interesting about is that sometimes Megadeth headlines them, other times Megadeth is maybe 2 or 3 down on the bill, so … like at Graspop, for instance, we played 3rd down on the bill or some others like Download, or some others like «Hell Fest» in France where we closed the show, so I like the variety, it's actually a lot of fun, you know. And there's always a big party, there's always a lot of people on stage, sometimes the wings are just full of people and it just feels like a party up there, like a big summertime party, so I love them. And it's kinda cool that we then do our own headlining shows, like what we do here in Russia, and sometimes we do those between the festivals, 'cause the festivals are usually on the weekends. And that is nice too, because we get to play more songs and we get to play different songs for the fans, cause the fans are there just to see Megadeth, so it's a different feeling, because we are performing right to our audience. So the tour like this in Europe is really a lot of fun.
During those fests, which bands from those you've played along with, you liked personally?
You know it's funny, Trivium is on a lot of festivals with us and they play right under us, and they are really one of those up and coming bands, they are really strong. And yeah, they've beenn around for a long time, so they are not a brand new up and comer, but they are somewhere like a next generation of band that would probably grow up very similar to Megadeth.
And are you playing first time in this venue while in Moscow? How do you like it, the sound, the atmosphere? 'cause the place is really huge, but you dont get this feeling,right?
Yeah, it looks and feels more like a club, but it's the size of a small arena or something. And yeah, we're here for first time in this venue. I mean in Moscow we played like for the 4th time: 2001, 2010, 2011 and now. And I hears really good things about the place and I heard big bands had played here. We've been playing big arena before and the smaller nightclub, so this is the cool venue to play! And it sounded great on the soundcheck for us on stage, which usually means that by showtime it would sound even better!
So while being always on tour, how does your day off looks like?
While on tour, like here in Russia or anywhere else, I always look for a «Starbucks», I call it the American Embassy, you know, Like whatever you go, there it is! I usually try to walk around, I don't sit in the hotel, I try a local meal. During the day I go to a gym, I do fitness. And I spend a lot of time shooting my little video clips. So for me every time I get out of the hotel, I take my little video camera with me! So the fans can see all those places of the world that we see!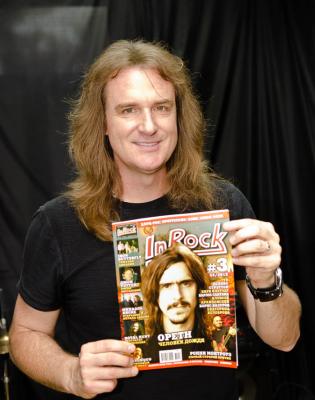 Oh, I've seen one from Greece! And I've never been to Greece, so that was even cooler ))
Oh, you did? that's nice! I put them everywhere: on my youtube channel, on my facebook, and we catalogue them on the Megadeth website like for every city where we play under our «Killing the Road» part on the Megadeth.com . You can go there and see every video I put with each corresponding city, you know. So to me that's my passion out here! Just to take people around the city, show them parts of these countries and those towns we go to, 'cause most people will never get to these countries and I feel a very privileged life as a musician to be able to travel and see all this places. So to me, it's kinda taking our fans with us! And it's like our fans have invested in us and I want to show them that their investment is doing well.
That's great,'cause that's the way they trust you more.
Yeah, exactly, they really do.
And if to look beyond the tour a little, what interesting collaborations are you dreaming about or are you so satisfied with the tour so far, so you don't think of anything else?
You know, honestly when I come home after the tour, I dont play guitar, I don't play bass, I kinda let my body sort of readjust itself. Very much like a professional athlete: when it's not game time right now, and when I come home off the road, I stay conditioned, but I don't push myself that hard. So I'm prepared, but I'm rested and I'm ready to go for the next leg of the tour. Collaborations for me always happen out of nowhere: the phone rings, I get an email, just holly coincidences. I'm always writing lyrics, I'm always writing music, and I just kinda storm away when the time comes.. and if the time comes to have something, it's nice to know that I really have some stuff there. And at one point I would like to do a solo bass album, because I've never done one and I think it would be a lot of fun to do it! I don't even know what it looks like an yeah, I think here it would be fun to collaborate with some people, to have some guests, but to do something from a metal & rock point of view. Because there's a lot of jazz bass players who had done solo records. So I think it would be cool to do a hard-rock metal equivalent bass solo record. So that's probably my long-term goal to just one day do something like that.
Oh, I really wish you luck and wish to hear it sometime soon!
Yes, thank you!
Text and Photo — Katerina Mezhekova
Thanks to Ekaterina Zhivoglyadova («Stadium Live» club) for organizing interview.