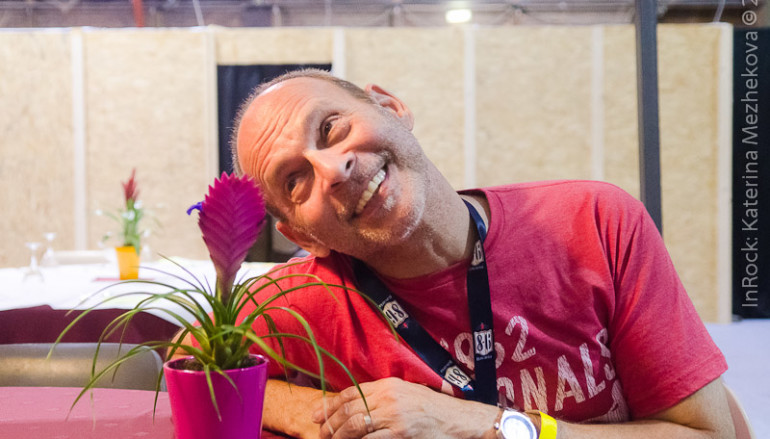 Wayne Kramer (MC5): Music opening the doors
American guitar player, producer & songwriter Wayne Kramer is often considered as forefather of punk. At 1968, when Wayne was under 20, he co-founded Detroit band MC5, jumping head first to the whirlwind of American events of 70's.
Those «five from Motor City», among other «proto-punks», became famous not only by their crowd-blowing concerts, but also leftist radical political statements. Talented guitar player even spent some time in jail at that time. And reconsider a lot in his lifestyle after that. But Wayne Kramer has no regrets.
We spoke with him at the French summer festival «Guitare en Scene 2012″(GES), where Wayne was a supervisor, i.e. took part into making the festival's programme.
We started talking about GES musical format and ended up discussing vynil, Youtube and the culture of music perception. But the brightest part was to talk on how music can help people fight addictions and severe life circumstances. Wayne Kramer has found his life goal – to bring help by the music to diverse kinds of people like prisoners, alcohol & drug addicts… Wayne has a lot of stories to tell. Not only considering his turbulent past. He is an amasing musician. He've been through a lot and he is full of energy, wisdom & new astonishing music ideas.
I've chosen to come to this festival, because this line-up is something you can only dream about, and at the same time it has the great atmosphere, very cozy, not over-crowded, which is good for the music. What is special for you this year on Guitare en Scene?
Since I'm the curator of the festival this year, for me to have some input on who to book, what we might able to do to make it extra special for the fans was the great honor, I'm honoured. Well, it was a big challenge, because many of the artists that I wanted I couldn't get. For example, I wanted to get James "Blood" Ulmer, Sonny Sharrock, or Stephane Wrembel, Nels Cline, but we couldn't get them, though those are amongst my favourite guitar players in the world & they are very important guitar players. That we were able to get the G3, I think, is very good for the fans of music. The 3 premier guitarists in the world today! And ZZ Top, of course, which is roots music. With all guitar players, when you trace the dots back, at some point, you hit ZZ Top. They invented a lot of the lexicon, the language that the modern guitar is all about. Also tonight we had Keb' Mo', who did an elegant performance of an artist who is true to the blues spirit, but has moved it forward a few degrees. Not a great deal, but he has pushed it forward a little bit. I think he plays an authentic blues style, but with some modern substitutions, modern changes and modern sentiments in the lyrics. It's a contemporary man's blues, but the spirit is there, the original one. And he's not trying to be an old blues man, he's not trying to be an old guy from Chicago or from the Delta.
Yeah, I was anticipating to see him playing exactly because of this, to feel that modern changes to the original blues spirit.
It was good, the whole band, they played together beautifully.
And you will be playing on Sunday on the final jam, what will it be?
Yes, we are putting together a format that with a lot of artists we cannot plug into. In this kind of a situation you have to have a structure for the musicians to play in. And rock musicians are not good candidates for free improvising, they need a form. So that's why we are putting together all that: who will play on what songs, what the songs will be, that kind of stuff. But it will be spontaneous, it will be the first time it ever happens. I don't know what will happen, we'll know more after it's done!
That's the most interesting part with the jams!
Yes, for me, I really wanna be good, not playing something I don't know.
And what are your milestones this & last year, apart from curating Guitare en Scene?
Well, I of course, have to work, and my work is mostly composing music for film and television. And I'm very happy in my work, I've been very fortunate. I get the score at a very popular television show in the United States, called Eastbound and Down. It's a very wicked and subversive comedy. I've scored a couple of movies last year and I've got a couple of good ones coming up in the new year. But for me the most important thing I do is to help prisoners. You know, I'm an ex-prisoner, and I wondered for a long time, why I had to go to prison, and what did that do to me, when I was in prison. Then I watched that at first thousands people just like me went to prison, then hundreds of thousands and today millions of americans are in prison. We have 2,5 million people in prison in America. We lock up more people in America than Stalin ever locked up. It's nothing to be proud of. So Billy Bragg, my wife Margaret and I, we founded an independent service organisation, we call it Jail Guitar Doors. The name is based on the Clash song that they wrote about me when I went to prison. It was a real show of solidarity for musicians. And what we do is simple: we find people that work in prisons and that are willing to use music as a tool for reabilitation, and we donate guitars to them for that use. We also work for the justice and legislative reform. So for me, that's the most important thing I do helping prisoners and working for justice.
Sure, that's really important, because music has a great potential for reabilitation, for motivating people.
I couldn't agree with you more. Music is the one thing that can make a change of heart. Education is important, but if you educate a criminal, what you have is an educated criminal. You have to have the change of heart. He or she has to learn to see themselves as a part of the world, not separate from the world, part of their friends, their family and their community.
Besides you don't need to learn something like a special language to explain music. You just hear it and it's in your heart.
Exactly! And the guitar is the great instrument: you can accompany yourself, you can write a song, you can tell your story. And may be the guitar would help a prisoner to write a song to his wife or to his brother or sister, or to himself just to say how did I get into this trouble, what could I do to not come back here again. It's the way to process your problems non-confrontationally. For me it's also important, because I'm a sober alcoholic and the antidote for my alcoholism is to do something for other people, for a change, because I'm incredibly selfish. Well, most musicians are, most artists are unbelievably selfish. So I need to think about other people sometimes and go out of my way to help other people. And if I do that, I can look at myself in the mirror and say "Hey, he's not so bad, he's trying, he's getting better!" (laughing).
Yeah, I know what you mean. Actually after being an addict, when you move to the next step, to a new life, I think it's very important to share what you've been through. It's a unique experience. I think nowadays people with the past experience like yours, they have to share it, because it will be an example for others how to live through addiction or co-addiction and how to survive, to change yourself.
You are absolutely right and that is how it works. I used to think that my decades in the vodka bottle and in the bag of heroin were a wasted time. But on the other side it turnes to be the most valuable thing that I have, because I can say that one thing to a fellow addict that nobody else can say! And that is — I know how you feel, I did that too! The priest can't say that, the rabbiah can't say that, parents can't say it, the policeman can't say it.
And you know all the shit of the situation, all the downs of it.
Yeah, I did that too. And for me sharing that experience with fellow addicts actually helps me (laughs ironically), it keeps me on the bait. It's a unique exchange how one gets better, how one changes, because change is difficult. It's not easy! And I think it requires the participation of other people, i think it's almost impossible to change by yourself. It's like using a fragment of a hard drive to fix a hard drive, it doesn't work. You need another hard drive to transfer your dead onto it (laughs).
And now, what types of music gives you motivation?
You know, it's the same as when I was a little boy. Music speaks to me in a secret code and I'm just drawn to it. I hear things and for some reason I like what I hear. So I want to go further with that sound, I want to follow that sound where that sound would lead me. Then I'm intriguied with the idea of putting those sounds together, playing them for people and seeing if they would feel the same thing I feel. It's the way to communicate with other human beings. It's the ancient role to play in the society, in the culture: some of us have to sing, some of us have to dance, some of us have to take photographs, some of us have to write. We all have our places in the world (laughs).
Speaking about places, I'm so happy to be right here right now, already feeling that it gives me so much! So I appreciate a lot this chance to talk to you!
Oh, thanks. And listen, you know one of my greatest dreams is to come to Russia. Please, let me say now to all my friends in Russia that I would be honoured to come and play some music, meet people and see what you guys are doing! I know there's a lot going on there.
Yeah, that would be great! And well, the country has changed enormously in recent 20 years, but there are still the same problems, in some spheres.
Yeah, I know. I try to be in touch with the world around me and I've been wanting to come for a long time, so tell your friends in the music business Wayne Kramer wants to come!
Ok, deal.
Do you live in Moscow? are you happy with the life in Moscow right now?
Yeah, I live in Moscow. Well, not very happy, because the city is too big and the life is too stressed, too dense. You have to really work hard to have your little cell in that huge huge conglomerate. What I don't like at all is that too much of everything is about money, luxury. In the centre you almost physically feel that overabundаnt spirit that everything can be bought or sold, that people need more things, more and more money. And by this people simply forget that there are some spiritual things, some experiences that you can't get for money. What I'm trying to do is just to do my job and do it the best for the people around, making the world a better place in a small cell. For me changing the situation is this, not doing the revolution any other way. Little steps of improving little cells of the world around me, here and there.
I agree with you. I think one person can make a big difference in your work, in your own community, on your own level with your own friends, in your own family. We can't worry about what happens on the highest levels. Change comes from the bottom, it doesn't come from the top down. And you know we are following and supporting the Pussy Riot, we are 100% behind them. In fact, Margaret, my wife, was talking to some people in New York about organising a benefit show for them. Yes, we support them a 100%.
Oh, and you know, on the Faith No More gig in Moscow, in the beginning of July, when it was already the encore some girls from the Pussy Riot they came on stage, doing a short performance, with their famous balaclavas, with fire sticks, shouting some words. And all this was totally unexpected & instantly acclaimed by the audience. And it looked like something Faith No More could have done & to show their solidarity with the whole absurd injustice of the story. It was punk in good will.
Oh, excellent! Great! The Faith No More bass player Billy Gould is my dear friend, we've done some projects together. That's great news, excellent! Please, keep me posted about the news with Pussy Riot, 'cause I'd rather hear it from you then read in the papers. (we exchange cards)
Oh, thank you. And I give you our magazine.
Thank you, oh, this is very nice!
Thanks a lot. Well, we're not big, but we're doing it independently, all by ourselves all the interviews, writing reviews, reports & some history bands. Some of our authors are musicians themselves, some are music academics, some are just passionate music lovers.
Oh, thanks, that's great. For an independent magazine especially, very nice design, very high-quality paper.
I appreciate your words a lot. We are trying to do our best making it and bringing the information to people in Russian regions, not only the two capitals, so to say. Surely, we have internet news portals now, but people are generally still used to read something more in depth than headlines & quotes.
Yeah, magazines are a good thing, they are very popular, in America anyway. And nowadays you can have a magazine on anything. Even if you grow japanese bonsai trees, you find a magazine on that. And that's great, plus you сan carry it with you, you can read it in the train or then at home.
Yeah, and it's also a collectible. You can read it years later or show it to your children, to your grandsons. Like I can imagine what would I feel if my father could have shown me a 70s issue of Rolling Stone, magazine about Led Zeppelin, for example.
That's true! Yeah! I do know what you mean! It's good that you know that, because we didn't think of that back in the old days, that these magazines would become so valuable.
And the thing that kind of proves that is what happening now with vynil being a valuable collectible and in fashion again.
Yeah! You know, I've heard that young people get together with that plastic disks and they put it on something they call a record player and it has speakers, and then they all sit in the same room and they all listen to the same music together at the same time.
And that's exactly how it was many decades ago, and that's still happening, yeah! For example, I must say I often do that with my friends, we exchange our opinions and impressions, and I know my dad had done that with his friends. There is something special in listening to music like that the ambience of something mysterious happening. And that's one of the natural ways we love music, and that's the way the music shall work.
True! Oh, excellent that you do that and all together at the same time! Yeah, I mean before there were records, we will go to a club, to a concert to dance, to see music live. And then with the coming of "talking pictures", when in movies they started to talk, the filmmakers realised something! Originally they played a soundtrack for the movie on the vynil disk behind the screen. But they technology didn't work out, so they had to put the sound actually on the film. Though they had a disk with the soundtrack anyway and they thought that's the good idea, we can do something with it! Then they came with the idea of recording music! So that became a one new way to listen to music, where you didn't have to be on the venue, you can listen to it whenever you wanted to. And it stayed that way till the coming of the digital age, then it changed (laughs ironically).
Oh, yeah! And I don't know if you agree with me, but that new trend with videos on Youtube is a very very good modern way of bringing music to the people in different countries. You are bringing not just the music, but also the picture how it looked like and the atmosphere of what it was. For example, if I'm a beginner, living far, and I know only some names of great guitar players, having no friends to tell me more about the bands I like. But from almost anywhere I can go and search it on youtube and have a look to make my own opinion, to know that it exists and how it looks like live.
Absolutely! Yeah, that's truly an advantage, helping a lot, whatever you are interested in. For example, if you are looking for chechoslovakian reggae music, just get in there, start searching and you find it! Besides I don't think that pop music world is a realistic reflection of the importance of music. There is so much music in the world, in so many different styles, different artists. So you can find the things that you like! You know, what's happening with the record business, that's just the slice along the top, but that's very deep underneath that thing. Yeah, we know too much now! (laughs) On the popular music radio, for example, in America, it's terrible. If you love music, that's the last thing you would do to listen to it. You can listen to the talk on the radio, because the music they play is awlful. Satelite radio changed things a lot for me. I listen a lot in the car. I live in Los Angeles, so I'm in the car a lot! And one of the satelite channels offers music from each era, starting from the 30s, 40s, 50s and till now. But it's really interesting to listen to all the music from the 1940s, like what people were listening to, what was in the air. It was during the war, so it was a lot of patriotic songs. It was more simple, life was more simple in a way. Like we are on the same side, this is working this way, we are fighting for one thing. There was an agreement, and I don't think there is any agreement today, especially amongst the young people. There is no consensus, there is no clear singular vision, which may be good, I'm not so sure…
… In a creative sense, may be, but it has to be a communion, some kind of common ground anyway.
Yeah, yeah, right!
Text & photo: Katerina MEZHEKOVA
more photos here — Final «Monstre» Jam»
July 27, 2012. Guitare en Scene, France
Special thanks to Thierry Barret (Festival Guitare en Scene) for arranging the interview.