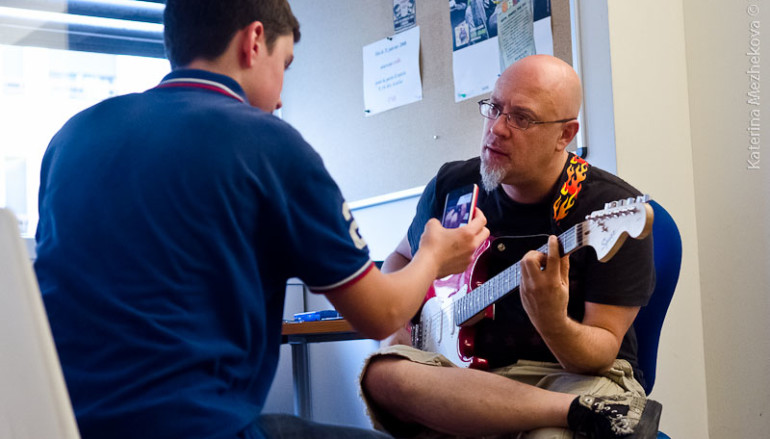 Christophe Godin (Morglbl): Brutal romantic
Sometimes joke is a best way to express something. Leaving seriousness behind, you get freedom, ability to express almost anything in a symbolic way. It's almost like being a wizard, a juggler, who plays with symbols and styles, mixes jazz improvisation and brutally powerful metal riff…
It's like being Cristophe Godin! French guitar virtuoso, the leader of the band Morglbl, a music professor, one of the godfathers of "Guitare en Scene" festival. We had a chance to talk to Christophe backstage at Guitare en Scene 2012 festival, to ask some advices about learning a guitar and… to speak… about just everything.
Christophe, you are now playing a lot with both bands, Mörglbl and Gnô, teaching guitar, doing master clasees, tutorial videos, working on music expos, and doing other collaborations a lot. With this really tight schedule, what are your most captivating projects now?
We have a big tour in China in October, and I've been doing this for 7 years already. As I'm a Laney amps ambassador for Asia. And throughout all these 7 years, I've been asking them, why do you want to have just me, why not the whole band? finally this year they said yes! So Mörglbl is going for 2 weeks all around China and we'll have a big tour, and it's really something I wanted to achieve for a long long time. So here we are, China!
Wow, my sincere congratulations!
Thank you!
And you played a lot in Russia too?
Yes, we've also been to Russia two times with Mörglbl, and one time with another project. And now with my manager we are working on some bigger programme for Russia. I just did a very interesting festival in Archangelsk this year. I've been playing in Moscow, I've been playing in a lot of smaller towns. I've played in Nizhniy Novgorod, in Kazan, in Cheboksary, in Novo-Cheboksarsk. Hope my pronunciation is ok. And we're going to try to achieve something that looks really like a tour.
Oh, you pronounce it perfectly, like you live in Russia. That's a really cool plan! Because not many bands from Europe come somewhere else, but Moscow and Saint-Petersbourg. And people from smaller towns can easily travel to capital cities, so that's important that where they live they can have access to a quality guitar music.
Oh, spasiba. So yes, we've been playing all those places, but now we want to come up with something huge to cover the big part of the country, and make something like 10 to 12 shows. And that's the thing we're working on at the moment, so we'll be back!
Great, so we're anticipating the tour! And do you prefer smaller clubs or huge venues are fine too?
Honestly where you've seen us playing at the beginning of Guitare en Scene, the Magic Mirror is the place that can hold up to 800 people. And that's the kind of venue I like the most, because it's a bit like a club, but at the same time it's already like a big venue. And you can have a very intense feeling of the atmosphere, not like if you are playing in a very small club and people are just standing there and don't really interact with you. So it's really the size I like the most. Of course, it's always great to play on big a festival. I would have loved to be on a main stage tonight. But you know, I'm not Steve Vai or Joe Satriani, though yes, I look a bit like him, and I'm not Steve Morse. (smiling ironically)… But they are much older than me, so may be I get my revenge! (Laughing)
You interact with public a lot while playing, so for the contact and the atmosphere smaller venues are better?
Yes, because what you've seen on stage is that we really try to get the people into what we do, with humour, with faces, entertainment and everything. And you can't do this on a very big stage, only in smaller venues.
And while you are playing for 2 hours, you just need to have the close contact with the public!
Of course, because if not, you feel like you have nothing, no energy, no feed back or what so ever. And we really got something from the people the other day here at Guitare en Scene, we felt like something special that came back to us and it was really tip-top!
Looking back throughout the years, how have you started?
Oh, it's a long long story, are you ready? I guess you can fall asleep in a few minutes… (laughing). Actually I started at 13, and I'm 44 now, when within one week I've discovered AC/DC's "Back in Black", the first Van Halen record, and the record by the French violinist called Jean-Luc Ponty with Alan Holdsworth on guitar, he's a fusion guy from the UK (album «Enigmatic Ocean», — K.M). So all of a sudden I discovered all of this, and it was all about guitar and it was something that was going straight through my heart. There was a guitar in the house, but I've never tried it, because my brother and sister both tried to play the guitar. One day I decided to hold that guitar and I just played a riff of "Smoke on the Water", like everybody when they start, but that felt so natural and easy. I don't know how to explain this, but may be that's the sort of things that happened to you also, that's the sort of things you feel naturally comfortable with. And for most people guitar is a very complicated instrument at the beginning. Oh, it's not of pride at all, what I'm saying, I'm just being very honest, so when I took he guitar, I really felt like I had already done that before. You see what I mean? So it was easy and natural. Of course, it was not easy in fact, but it felt like it would be easy. So that is how it all started, and I began playing in local bands. Then little by little, I grew bigger and I went to different places all around France all the year round, and now (makes a scary face) it's all over the world! Ho-ho-ho…and China, and Russia, and I was in Bangkok last week for a big show, in Thailand, it was very cool!
Awesome! The music you play is a rich cocktail of virtuoso shredding, fusion, jazz, metal. And among the whole range of the bands that you are listening to, what are the recent records that really surprised you?
Oh, that's a tough question. You may be surprised, but I really loved the last Meshuggah record («Koloss»). And it's funny, I have a side that is really heavy-metal, and there's really hardcore metal in my playing. What I loved about Meshuggah that at some point they achieved something that is very complex, but at the same time is very poweful, like primal, like it's an animal music, but with a big brain. That's what I love about that band and that's what the true heavy metal should be!
I know you are teaching guitar for student of different levels, from beginners to advanced improvisation. So tell me please, what's the most important in the beginning?
You are recording all this, right?
Yes, I guess so.
Oh, all right so I must say intelligent things from no, ok.
Hahaa… I honestly prefer that you say things as you like, as intelligent as you think them.
Oh, ok, so I can stay gooffy and say silly jokes, thank you. So as you understood when you start you get to try to play like Yngwie Malmsteen, right in the first week, (showing the shredding style with the relevant sounds).
And then you may end up…. crashing your guitar?
…Nowhere or yes, crashing, in the worst case may be.
What I always say to my students is that you need to have songs & chord progressions, because like this you can start to play with the others. I mean if you come up with the Beatles song or something, everybody will know this song, so you can play with people. And the most difficult in the beginning is to find people to play with. Because very often people are practicing scales and when it comes to playing with someone, what can you do with just a scale? I mean if you know chords and you can play a little bit of rhythm than you can interact with other musicians. So that would be my best advice…
— And so motivationally, what can help you through the process or what gives you inspiration?
Well, inspiration… There is one important thing that people don't do very often when they start…
Are we talking about crashing again?
Hahaaa, no, actually, what people don't do when they start is following your voice. You have music inside yourself. You think about a melody, try to play it. And the relationship of what you hear in your head or in your ears and what you play must be the first connection. I don't know whether it's the same in Russia, but in France it's a bit strange. Because all the kids they start by singing, right? But when you sing in the street or in a public place, people are pointing a finger at you, making look like a fool, saying like — C'mon, you are singing in the middle of this crowd, are you crazy? You must be someone wierd. And I think it's kind of stupid, because the first thing that we have as an instrument is our voice. That is why I also sing the chords when I show them to students in the beginning. So when you start playing the instrument, if you can connect your voice to the instrument, you improve! Because you are just making music that comes out of yourself. I don't know whether it makes sence what I say, but I think it's important. For example, when you started playing, you've probably already heard like a thousand songs in your life. Pick up a melody that you have on your mind that you really like and try to find it on the guitar. If you do this, you improve very quickly, because like this you would have a motivation that comes from inside, not just picking up things here and there, but making something that really comes from you. At first it takes time, but little by little you are learning to find things easily. So that's my advice for beginners.
Thank you! This is really an inspiring piece of advice! Christophe, and apart from playing music, teaching people at music school and during guitar clinics, what are the things you like doing?
Actually, my first job was cartooning. I draw a lot of cartoons, and I worked in an advertising agency. I can draw you a cartoon if you want, and that's something I really like to do!
Do you do your own t-shirts for the band?
Oh, I did that before! Now I don't have enough time for that, unfortunately, because I'm touring too much. And when I'm in the hotel on tour, after the gig I just want to sleep, I don't have a minute to sit and say like: oh, let's draw a cartoon. So sadly I don't have much time for this now, but that's really something I really like a lot! So hopefully when I get a bit older, I would be back to doing this again….And what else… if you mean hobby also, I like sports! Sports actually is very close to music! It gives you a lot of emotions, it requires a lot of abilities, energy!
Exactly! And about your passion to drawing the cartoons, have you thought about making your own guitar tutorial with the educational cartoons you draw?
Oh, no, I haven't thought of this, interesting. But the funny thing is that I'm starting a project right now, we are working on a video-clip. And actually the guys who are doing the video, wanted to get inspired by the cartoons that I've drawn. So I've started to work on something that would be a representation of myself as a guitarist and try to animate it, kind of having myself as a character of the cartoon. So that's what we're going to try to do.
When will it be out?
Well, it depends on the guys, how fast are they going to work, because the music is already recorded. It's one of the songs from the new Mörglbl album "Brutal Romance" that's going to be used.
Ok, so we wait patiently! Some tracks from the "Brutal Romance" you've been playing during your set at the festival. It was cool to see you playing them live, and how was the working process for you?
Oh, actually this album came pretty fast! All the music has been composed by three people the bass-player (Ivan Rougny), the drummer (Aurelien Ouzoulias) and myself, and that was a team effort more than ever. So we really came out very quickly with all the music, it took like one week to compose everything. Then one week to assemble and structure everything, and then one week for recording. It was the fastest recording we've ever made, and the funny thing is that for the first time we had plenty of time for making it. Kind of a funny balance: we had no pressure, so we've worked faster than we've done in the past.
Musically what do you like about it?
It's rough. It sounds really live, although we've made some production and everything. It sounds like we are playing it live on stage. That is the first time we've captured that vibe. So for me in terms of sound and production, that is really what makes this album a further step.
Mörglbl "Brutal Romance" was out June 2012 via Free Electric Sound. Now while touring with Morglbl, Christophe Godin is working on the new album with his other band Gnô.
Text & photo: Katerina MEZHEKOVA
Thanks to Thierry Barret (Guitare en Scene) and Lily Karapetyan for organizing the interview.
28/07/2012. Guitare en Scene, France.
Russian version: http://inrock.ru/interviews/christophe_godin_2012