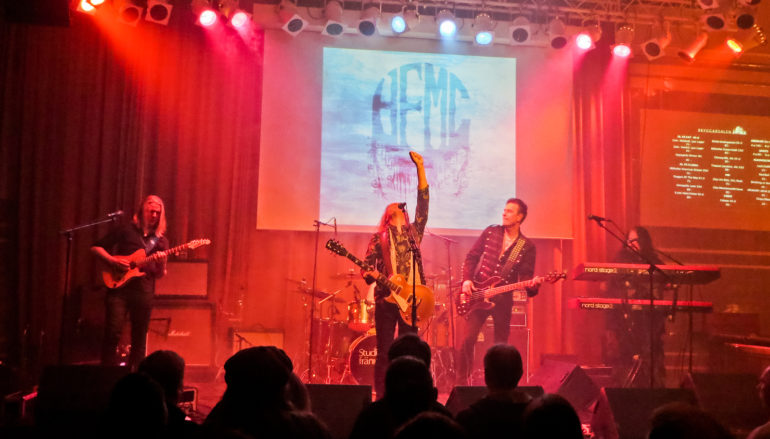 Sweden Prog Fest-2015, Day One: the Queen, the Warriors and the Companions
There are not so many progressive rock festivals in the world now. But Sweden Prog Fest is gradually increasing its strength. Taking place in the center of Stockholm, at a very nice venue named Bryggarsalen (ex brewery in fact), the fest's gathering prog bands from all Sweden and even abroad. Celebrating a 5-year jubilee this year, SPF-2015 took place on 20-21 November and impressed the audience with a very strong line-up.
Such names, well-known not only in Sweden, as Trettioåriga Kriget, Merit Hemmingson, Ritual, Barracuda Triangle, Hasse Fröberg & Musical Companion, Astrakhan and also Von Hertzen Brothers (from Finland) were surely a bait for prog lovers. The picture was supplemented with several young but obviously promising Swedish bands. There were no hesitations to attend the event again – for the second time in a row (see our review about SPF-2014 here). Just a two-hour flight – and I'm in Stockholm, in time for the fest opening. Three main promoters, or may I say "Three Kings" of Sweden Prog Fest – Mats Jonason, Håkan Granat and Jim Nurminen – are already on stage, saying their greeting words. The festival begins.
«The Queen of Swedish folk groove» Merit Hemmingson is a legendary artist, a «grande dame» of Swedish folk, jazz, beat and prog music, a talented composer, an organist and a singer, an author of many remarkable works (which she has been issuing since the end of 60's) and, the last but not least, a very beautiful woman. With her long white hear, mysterious smile and insightful eyes she definitely looks as a Snow Queen. But… with a Hammond organ. Having already seen Merit Hemmingson in Moscow in May, I have already been familiar with her live performance. But there were an important difference: at SPF Hemmingson played on a REAL Hammond organ (not on an emulator), and it was a blast. What a sound! Merit has a duo with a drummer Ola Hultgren, who accented the rhythmical groove of her music very subtly and also surprised the audience with a couple of jazzy solos. The music flowed unhurriedly and solemnly, with a charming fleur of Scandinavian (and not only) folk melodies and church chorals. In the end of their set the duo played one of Merit's main hit – «Jämtländsk Brudmarsch» with its merry old-fashioned melody. The nicest beginning of the festival!
The next one was Carübine – young and eager «power trio», so new that I even couldn't find any information about them in the Web. Is their name connected with the very same «joyful and curly" Cherubino from Beaumarchais's "La Mariage de Figaro"? Definitely not. Despite their young age (the guitarist looked absolutely as a boy, but the bearded bassist had more serious image), they played very loudly, heavily and viscidly – that sort of "intellectual alternative" which maybe closer to Tool, not to Rush in fact. Don't know if that kind of music suitable for the prog festival, but I can compliment the guys for their enthusiasm and driving skills. So – go Carübine!
Just another enigmatic name – Astrakhan. Is there any relation to Astrakhan' – big Russian city on great river Volga? No answer. (By the way, one more band with the same name also exists in USA – don't be confused!). Swedish Astrakhan plays some sort of prog metal/prog power which is associating with Sieges Even / Subsignal, Pain of Salvation and sometimes also with Royal Hunt. The last two names are not accidental in this list because Astrakhan's "special guest" guitarist Johan Hallgren is a former member of Pain of Salvation (I almost broke my brain thinking where I have already met this guy with dreadlocks), and their bassist Per Schelander has also played with PoS and Royal Hunt. But Astrakhan's music is specific enough. Powerful, clever, deep, pathetic and highly emotional, it catches immediately. The beginning of the gig was very spectacular: the singer Alex Lycke "sang" from the video screen while his bandmates played on stage (in fact "filmed" Alex just opened his mouth, but real one sang backstage and appeared to the audience as the second chorus began). It seemed that picturesque clean-shaven soloist was never staying still, constantly moving as if he was trying to embrace the whole world with his hands. The band performed their main hits from the recent debut album "Retrospective" (such as "Propaganda", "Long Gone Generation" and so on) and also some new material that is going to be released in January 2016.
The name Hasse Fröberg & Musical Companion may sound familiar to Russian listeners, since our magazine has been writing about them many times. The Flower Kings vocalist and guitarist Hasse Fröberg's solo band has already had three records and several tours (including European trip with Enchant this fall) in its CV. Their music unites prog, hard and even metal and glam elements in a unique and a very colorful mix. And the newest CD named just "HFMC" is obviously one of the best prog rock records of year 2015! The band performed at previous year SPF, but because of an annoying technical problem with Hasse's guitar they had to shorten their program, having played old songs only. And there was the time to take revenge! Now the set consisted mainly of new hits as philosophical (and mighty!) "Can't Stop the Clock", energetic "Everything Can Change", touching "Genius" and melancholy psychedelic "In the Warmth of the Evening" (in fact my favorite one). But "old good" ironical "Godsong" and pompous "Fallen Empire" – for the finale – also were performed.
The show was absolutely flawless – all things at their places, all that sharp-cut details are on air, the band at the peak of its form. HFMC sounds extremely solid and powerful now, with some sort of easiness and inspiration, when you don't need to think about notes, chords and so on. Companions is an amazing live band, and all that rock'n'roll tricks (that you can't often meet in prog) like heroic poses with mic in hand over the head, waving hair and back-to-back solos are in stock: on stage Hasse Fröberg is like in a centre of small typhoon. And there was a lot of interaction between band members: solo guitarist Anton Lindsjö, bassist Thomsson, keybordist Kjell Haraldsson and drummer Ola Strandberg (who plays also an acoustic guitar section in epical "Pages"). Brilliant! And, as we could see, it was not the last Hasse's appearance at SPF-2015…
The final cut of Day First was Trettioåriga Kriget (The Thirty Years War) – a legendary Swedish heavy prog band, which career started in early 70's. Their first two recordings are rightfully considered as truly masterpieces, having had a tremendous influence on later Swedish progressive and metal bands. And they have been always singing in Swedish – how original! (But maybe it didn't help to spread their music beyond the borders of the motherland, as well as in the case of their countrymen and heroes of last year SPF – Kaipa.) In the beginning of 80's Trettioåriga Kriget broke up… just to reunite in the very same line-up in 20 years! Since then the band has been touring and recording new works successfully. The brand new CD (in English this time!) is on the horizon – it will be released in February 2016. Considering the performance, it was incredibly strong and mighty. Trettioåriga Kriget managed to save that dark and severe beauty filled up their music. Unpolished and heavy sound based on guitar and bass riffs (with optional colors of keyboards), melancholic if not to say gloomy mood of many songs… However, heavy rock songs organically alternated with softer, ballad-like compositions.
Having began with formidable Crimson-inspired "Lång Historia" ("Elden Av År" album, 2004) they came to calm "Efter Efter" (2011) and then – to their "program" old thing, warlike "Krigssång" ("War Song" from eponymous album of 1975) with its strange "crooked" bass riff, dissonant chords and rough folky melody. And – believe me or not – the main vocalist Robert Zima (funny, his surname means "winter" in Russian) gets the highest notes as easy as in their classic recordings: Ian Gillan gets a rest! But if you don't understand a word in Swedish, maybe the best way to know Trettioåriga Kriget is to listen to their instrumental tracks – such as philosophical and beautiful "Andra Sidan". Guitarist Christer Åkerberg in his cowboys wide-brimmed hat, stocky merry-maker Robert Zima and tall, serious Stefan Fredin (bass, voice), keyboardist Mats Lindberg with two obligatory red "Nords" and Dag Lundquist behind the drums (plus invisibly presented lyricist Olle Thörnvall) – a company of friends, knowing each other from childhood, and a constellation of finest musicians. And – read the interview with TK's leader Stefan Fredin in some of nearest issues of InRock magazine.
Meanwhile one more well-known artist appeared in the audience – Mikael Åkerfeldt (Opeth), apparently a big fan of TK. However he couldn't stay unrecognized for a long time: soon he was surrounded by friends and fans, and after finishing the Day One all things flowed in a merry runabout. And if you have never tasted Stockholm night life in its freshness and specific rhythm, ask me and I will suggest you some nice places to have a glass of beer. )) But that's another story…
Text and photo: Elena Savitskaya (InRock Music Magazine)
Many thanks to Mats Jonason (Sweden Prog Fest) for the accreditation
Общее впечатление
Sweden Prog Fest-2015
Stockholm, Sweden
Bryggarsalen
20-21 November 2015
Day One