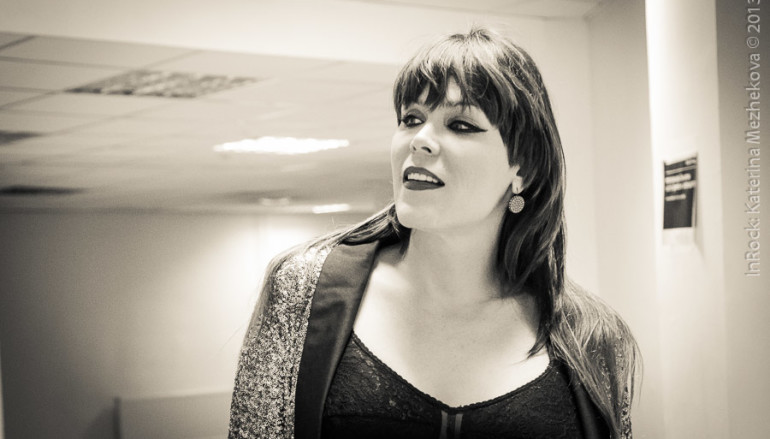 Beth Hart: With a smallest light, the dark flees
After the release of numerous solo albums and recently two very successful disks of classic blues covers, huge amount of concerts in all corners of Europe, it's hard to believe, but Beth Hart first visit to Russia was only last year, July 2013! When I talked to her a year before that at Guitare en Scene festival in France, she already told me, they would love to come and play in our country, but it's not easy to arrange.
Now I'm just so happy it became true. This midsummer hot day Beth Hart is doing a double bill gig with the huge blues star — Taj Mahal. But even more, on April 3, 2014 Beth Hart is coming again!
We are sitting in Beth´s dressing room, talking while Beth is doing her stage make-up. Her husband Scott enters the room, bringing her some food. She instantly smiles full of light giving him a setlist for the show.
Beth: — Hey, Scotty, do you think it's ok to come out and do some acoustic songs before playing electric with the whole band? I've thought that would be nice to open up. And only have a few songs acoustic here: «Under Water», «Delicious», «Baby I Love You», «Chocolate Jesus». And then I bring the band out. What do you think?
Scott: Great! I think that's absolutely perfect. (He stands up and leaves the room with a setlist)
Beth: Yeah, really?!? I love you!!! ….(She sighs lightly, turns to me, her voice becomes much lower and stronger)… Ok. I'm ready now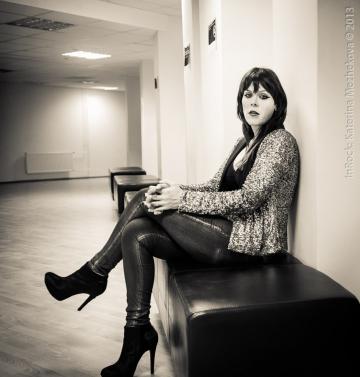 It's so wonderful that you are here in Moscow! What are your first impressions of what surrounds you?
Oh, what I've seen so far has not been a lot, but it's been really nice for me. I went to a "12-step AA programme" yesterday at the church. It was an english-speaking meeting, but there were people that were born and raised in Russia. They were really kind! In all the places where we've gone to eat so far, the food has been really spectacular. And of course, the architecture is fantastic and unique! But when my husband took me to Red Square last night and I started to walk through, I couldn't believe how spiritual it was! It's moving to see what human beings can do, what they can make, what they can build! I'm looking at that, with all the evening lights and the buildings around, and I'm just going aaargh!
Oh, yes. It's really a special place that has its own vibe. I saw a pic of you on The Red Square in you twitter yesterday and noticed how happy you look!
Oh, yeah!?! It's really awesome!
And how do you find the people?
Oh, I find the people to be really strong people. Proud people. Probably, because this country has been here for so long and has so incredible history, so of course, the people would be proud and strong people from the old country. It's kind of what I thought it might be, but even better. So I've been really looking forward to this. I've never thought I would get to come to Russia. And I remember that at the early 90s, when the artists from the US started coming from here, I thought: oh, you have to be a big star to go there, so I'll never make it there. And then for this to happen this year, it's been really surprising! I'm really happy to be here!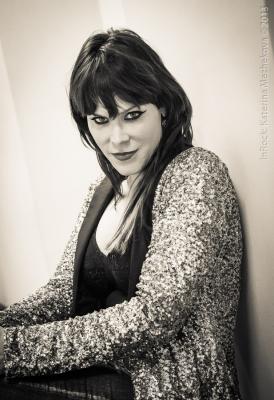 Oh, and I must say, you have fans here and we've been waiting for you to come here for quite some time!
Oh, really! Unbelievable! How's that possible!? Wow!
Oh, your music really has fans here! You'll see that tonight (And the venue was full!)
(Hugely surprised, Beth looks at me and then catches a glimpse of herself in the big mirror on the wall)… Oh, excuse me how I look, I look so tired, so bad! I'm feeling so old lately!
Com'on, you are wonderful and full of beauty, it's just you had a long road here and the lack of sleep. I show you what! I have a magazine for you as a souvenir with the report and the interview from «Guitare en Scene» festival in France.
Oh my god! I don't remember that. Thank you!!! My husband and my Mom would be really happy that I brought this back! Oh, my hair is so funny here, I look different. Look at all those photos, so great! Hahaha, look at my boobs, they are really huge! Wow!..(looks at me impressed) Oh, god, I can't believe, I can't remember you when I'm talking…
That's ok, you've had a lot of stuff happening since then.
No, that's not a long time ago — one year, I am so sorry, my memory had not been strong in recent time. Too much alcohol and my memory is not great! With some things it's great. Like with music, I can remember a lot of things. But with other things, after some time I can't remember it at all.
It is really perfectly ok, because you have a lot of huge impressions constantly and in this key chain of impressions, sometimes one stirs the other.
Oh, ok. Thank you!!! (Beth starts to breathe calmly again, looking through the pictures)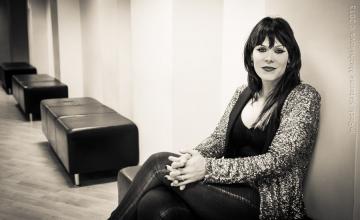 God, I look so healthy here! I've been having problems with alcohol again! That is why I look so tired. But then I went sober! That's why now I'm going to that AA meetings again — to try and get healthy again. I think this past year has been big! A lot of good things that happened career-wise. But sometimes when things happen that are good for me, there is a lot more pressure for me. It´s too much and I'm having hard time dealing with it. I've been just talking to my manager and also to my husband this week about how I wanna change that a little bit. Yes, to be on the road, to play and to write, but not all the time! I wanna have some time to just be a woman, to have life other than just singing, to be at home with my animals, to relax.
…to fill in the well of the energy…
Yeaah, exactly! I am very grateful for what I have in music, I just don't want it to kill me. I'd come so close in my past to it killing me. Not the music — my illness, so I have to be careful.
Sure! Because the fans really need you and you open the new door to the blues for the current generation, you know, and your husband needs you!
Yeah, oh! I love Scotty, he's so amazing, so patient, so kind. I don't understand why he is so good to me. He is a wonderful person, I love him too, but I'm not that wonderful to him.
You are a happy woman, Beth!
Sometimes…
Sometimes you feel it, sometimes you don't, but still are…
Yeah, but lately, it's been a little rough. But I'm blessed, for sure. God has been good to me, I just need to learn how to be good to me too. That's the hardest part!
(We continue looking through the pages of special Woman InRock issue and Beth keeps commenting photographs in the article about her). Oh, my God look at my crazy hair here! Oh, this is my piano room, thank you! And this is at the studio when we are recording "37 days", here I wear my husband's mother's necklace, she just died, she was so wonderful!…Oh, I remember when I took that photo…Thank you so much! That's really nice if you to bring that! That's so sweet!
(Beth hugs me tight and starts asking me lots of questions about my career as a photographer and is really surprised when we come to a point of me having a diploma with honours in law and switching to photography.)…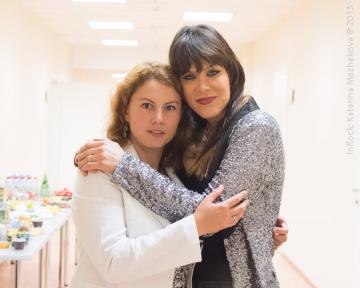 Yes, you always need to do what you are happy about, what you love! You did the right thing, your parents should be really proud of you! And I think that you live much longer when you want to wake up and go do whatever you have to do that day. I think it makes the human will stronger, that fights disease, makes you kinder to others, because you have more joy in your life…
….and you value what you have achieved and what you've been given…
Totally! I'm so happy for you!
Thank you! You know, some years ago I would not believe I could sit here with you and talk just as we are friends for a long time. Every little step of what I'm doing is about the dream coming true.
Oh, thank you! Thank you so much!
Speaking about tonight, are you gonna focus on your recent solo album or the covers material you did with Joe Bonamassa?
Both! It's gonna be some "Seesaw", some "Don't Explain", some "Screaming For My Supper", something from "37 days" and of course, from the recent "Bang! Bang! Boom! Boom!" record, plus maybe some songs from my past albums. Do you think it's good?
Oh, that makes a great retrospective of your whole body of work!
Yes, I try to do this! What I also do, but not very often, is something I try when I first come to play in some country, especially when it happens to be in a theatre, I start out the show playing acoustic. It's softer, it's quieter, and humbler, when you don't know the audience yet, to come in respectfully. And then, after 3-4 songs, I bring the band out and we start rocking!
That's a great idea!
Really? You think so too? So that's what I would do tonight. Yep, I got a question for you: do the people understand English really good? If I ask them to sing along with me, would they be able to do that or maybe not?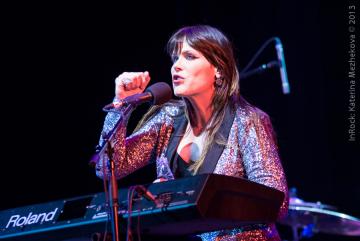 I guess you can try it, having in mind, it's a seated place, so people won't have the same energy as when they are standing. If that would be a little club, I would say you they sing along, for sure, but this spacious venue can get you very far from some people, so you can never be sure. But people understand English quite well, so you can talk to them in English from stage and see how it goes.
Ok, so we test it out and look how it goes! Oh, thank you for answering, because it's really important for me to have a good contact with my audience and as I am first time here, I really don't know. But I would try and if I make a little bit of a fool out of myself, that's ok! No one will die from that, right?! (Laughing) We have a couple of songs that always make people sing with us and perform with us. But I'm never angry if someone doesn't do that. May be I felt that when I was younger, but now I understand.
(For the record: Crocus City Hall was singing along that night, first rows, for sure!)
You know, from what I've seen, Russian people sometimes are very closed when the see the musicians that really impress them. May be quite the opposite, but sometimes they were longing to see the rockstar for so long, they just freeze in admiration, keep that in mind, please!
Really?! Oh… I could understand that! I'm not a star, but I see how it works. When I saw Fiona Apple coming to a place in our neighbourhood when we were eating with my husband, I grabbed his hand and whispered: "Oh, Scotty, don't eat, put your spoon down, don't speak, don't move, it's Fiona Apple here!" I couldn't breathe, I couldn't speak, I just hardly could handle it. She's so wonderful , I was freaked out!
So the thing about Russian people is that sometimes they have very serious faces, but are very kind and emotional inside.
Exactly! That is true, I felt the people in our band didn't know how to read the people, which is natural, because you come from your country and you think people ought to behave the way they are around you. But everyone in the world is raised differently, but still we are all the same. We all need love, we all wanna give love. We all have our fears and stuff. Last night with Scotty we were saying to each other that we think Russian people are incredibly warm people. But you have to be warm to them. You can't expect them to just be open and shout you from the hall as you are best friends. People from the U.S. used to say that France is the worst country, they are the rudest and the meanest. Years ago we went to Paris and I couldn't believe how nice and friendly people are! To this day, from all the countries we've been to, the friendliest countries had been France and Mexico. Just unbelievable! People always saying: "How are you doin'? Let's make a dinner, you need to stay! It's so awesome you are here!" I love that.
I've been to France and I totally agree, people treat you like you are family!
Exactly! And last night here, when we were at the restaurant with Scotty, everyone was wonderful to us! And at the hotel, and when I want to that AA-meeting. At the church, across the street from my hotel, there were some Americans, but there was that Russian woman who sat next to me, she was like an angel. She was such a wonderful woman that she made me cry, because I was so humbled by her kindness. Really wow!… People are awesome!
Yeah, and speaking about alcohol, it's a huge problem here…
It is? I didn't know that!
It is! People drink a lot, really a lot! The rehab process is not that well organised that in America. There are a lot of tragedies around that and AA-meetings are not popular as a cure, unfortunately.
(Then Beth and I are exchanging some private stories about fighting drinking too much, those stories which are extremely helpful to know, but they are not to be printed out, for sure.)
Here in the society some people think that drinking a lot is normal and part of the culture, but when you are off the limits the others start to treat you unkindly and rough. It's hard for people to take it as an illness.
Yeah, it's a lot of shame around this! Even nowadays when the world is coming more and more to see it as a disease. You wouldn't judge someone with cancer, you should not judge someone with alcoholism. But still it's much about the fact that alcoholics themselves hate themselves. They have so much shame! But the only thing that has ever get me sober for a long period of time was going to many-many meetings with other alcoholics. That's how I got sober in the early 2000-2001. I wasn't busy in my career, it had stopped, so after rehab I went to a lot of meetings and I've got a really good foundation. So when I started to be back on the road it was great, 'cause I went on the meetings wherever I was. I had almost 5,5 years of perfect sobriety. Then we started getting really busy and I was feeling all that pressure. So now I go back and try to get that foundation again and that connection to spirit. Being with other people helps a lot — when you are listening to their stories and learning.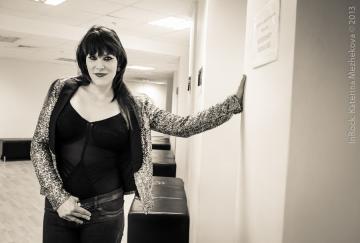 Yeah, self-blame is a killer, but you slowly start to see that you are not bad, you are just yourself.
Yeah, self-guilt is killing you and then it moves back into drinking more!
I don't know if you are ok with us printing all this in the magazine, with due respect to your personal life, but I guess that could be helpful to a lot of people.
It's totally fine, 'cause my life is not only for me! If it's only for me, it's a very small life. But if I could use my life in any way to be an example of what not to do or to make someone feel like they are not alone in their illness, then I'm more than happy to do that.
I must say you recent solo album "Bang! Bang! Boom! Boom!" helped me a lot in a harsh period of my life. I really feel that this record is full of woman energy and very supportive in that sense.
Oh, really! Oh, thank you!
What woman can bring to the blues is the special energy of birth — big pain combined with huge happiness.
Yes, yes! That is the special thing that women add to this music. The same with men, they have their own special thing. Men are sensitive, women are also sensitive, but there's that nurturing, extremely compassionate part of the woman that I think is so special. It can be such a thing when put into art. She has to be willing to be very honest and I think it's difficult to be very honest. Even when you try hard, because of a survival mechanism we get a lot into denial: about our own feelings, our own needs, about the way people treat us. We do it to survive in the world, so we don't get too upset, too sad. But when you gonna write a novel, paint a picture, do a dance, sing a song, if we are not connected with that honesty, other human beings smell a rat. They can tell when you are putting up a good show, which is ok, or when you are telling the truth, and then they are moved. I think that the most difficult thing for an artist to achieve is touching that honesty. And every now and then, you have to touch it, if you work really hard and try really hard. Then there are some artists that are just so talented, they are somehow able to touch it, like Prince or Mozart or Beethoven, some of the great ballerinas, Van Gogh! It seems that every time he'd put the brush to the canvas, he couldn't help to tell the truth. Somehow he was connected to it, naturally! …I am not. I have to work very hard.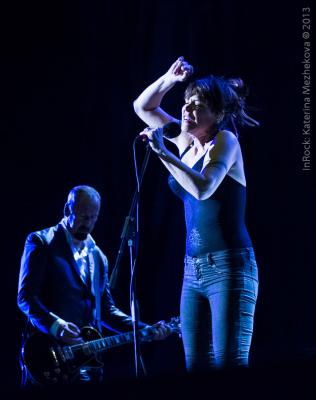 Oh, don't be too critical, you just have your own way!
Yes, my own way. I always I ask for God or for the angels or …for ghosts, to come and visit me and write through me, because otherwise I just come up with shit!
Well, shit is the needed part of the experience and you know it. (Beth bursts into laughing)
Oh, but look how tired I am. I've been not taking good care of myself. I've been doing some exercises, eating properly and not smoking. I haven't been smoking for a couple of months! But every couple of days you just feel horrible, and on the road it is especially hard. Then when I come home I know I can go to more meetings, because here, on the road, I can only go to some, because of the schedule. It's also that medicine, it's non-addictive, they started it in Canada for heroin addicts and now they are using it for alcoholics. I might try that, instead of going to rehab, to see if that would help me or not. It's hard to get sober again. The first time was hard, but now… it's a double pressure. Oh my God! I also think that it has to do with the feeling of pride, it might be getting in my way. But I gotta do it, because I don't wanna die!
You can make it, I am sure of you!
Pray for me, will you?
Sure, I will! You are strong, I've seen you on stage, you are such a charismatic person.
Yeah, she is my other side though. You know that, as human beings, we all have many parts of our personality: the little girl, the woman, the sexy, the tough boy, the humble one, the ego one — it's all inside us. I have my strong one, but I have my very hurt, afraid little girl too.
So you have to be like a mother for yourself…
Yes, and right now I don't know how to do that! That's why I am going to meetings and try to learn from others, to let them teach me again, hopefully, on an even better level, I learn more this time how to be a better mother to myself.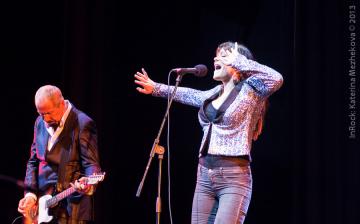 Besides, people are inspiration! In the music part of your life you had a lot of collaborations, who could you name as such an inspiration who with whom you've learnt a lot?
I get my most inspirations not from other artists, but people who have gone through great tragedy and somehow their heart have survived. A perfect example would be Anne Frank. How she was able to go through the horrors of hiding from the Nazis and yet she still wrote that beautiful diary of how she believed that the core of human beings was good. That is amazing! She had every reason to hate and not believe in mankind, but she somehow held to her faith in the innocence of the human race. That inspires me! Or if I meet someone who has just got through cancer, young or old doesn't matter, but they've done chemo or had to remove their breasts or something. When they share their stories and you get that they are living, they fight, they are not down!
Have you heard that Angelina Jolie's story? That's so moving!
Yeah! She's an amazing human being, look at what she has done for the people in the world starving and going through difficulty. Amazing! And she has all her children (to some she gave birth, but others she was taking from all over the world to save them), then she does all that with her breasts! I mean a sex symbol legend she is and she removes her breasts. Fuck yeah, wow!
This is inspiring! And Amy Winehouse inspired me… I loved her singing, I loved her songwriting. I love how she had the courage to make this amazing unique look which is a part of her artistry! She was able to tell the truth, I believed her completely! Janis Joplin also told the truth…Etta James…Aretha Franklin — I always loved her voice so much. But artists like Etta James, she was just raw and real! But there are so many, so many great artists…
In that sense, it should have been really hard for you to pick up those artists who you wanna cover on your disks with Joe Bonamassa. I guess the list was huge…
It was a big one! I really have to give massive props to Kevin Shirley! He is so brilliant! I gave him a lot of songs, a lot! He was just like: this one will work for you, this one will not. And being a pretty stubborn person, I've just trusted him. And he is right! Every time! As for Joe Bonamassa, he didn't care, he was like: whatever you wanna do, I will support you! He's amazing! He's one of the most humble people. I think that Joe just really loves music and he doesn't need to control everything, he doesn't need to dictate anybody. He puts himself on an equal playing field with everyone and he just loves to play. It's wonderful to work with someone like that, because you know, you gonna be working with the utmost humility. It's like that with our whole band. I've been so lucky to work with humble, wonderful people, who have been so respectful to me! No real assholes, I'm so fortunate!
May be because you are so humble yourself, good people are attracted to you.
I've been an asshole to myself with all that drinking and bad stuff I've been doing. Yeah, and sometimes an asshole is the nicest person in the world, he is just having a bad day (laughing)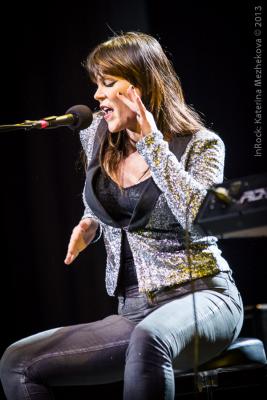 That make you an ill person, not an asshole. But I certainly believe people with good energy are like magnets to each other.
Yeah, I've just talked about that very thing with P.J. [Barth], one of my guitar players. He and I were talking about how blessed we are with a band and a crew we have: like Bent who does our sound, he is so loving, so very warm, or Vibo, who does our backline, he is the same. And so are Scott, my husband, PJ and Jon Nichols on the guitar, our drummer Bill [Ransom], our bass player Bob [Marinelli], my manager David. It's weird to say, because they are not women, but they are all mothering me, caring, so gentle human beings. And sometimes you meet someone that is so nice, and he or she is the biggest asshole! Sometimes you never know (laughing)
Going back to working on «Seesaw», the choices were hard, then
Then I have to do my homework. Some of the songs I knew well, but I didn't know them inside or outside. Like a songwriter of the song would know his or her song — in every possible perspective. It's like if you watched the movie a hundred times, you get a different perspective each time, and it's part of why you love it. I needed to have that for the songs, I needed to immerse myself into them to get so close inside to feel that I can get my own personal life experience with them. These songs are so up here and the singers who do them are so up here (shows the level high above her head), I couldn't fuck around with them. And it was some of them I did not believe I could do it, I thought I sucked! Like Melody Gardot — "If I tell You I love You". I love her and I love that song! It's such a great song, but when I sang it I said to Kevin [Shirley]: Oh, my God, I'm the most horrible singer! He said: "No-no-no, you did a good job! You see, it's gonna be great!" I listened to the mox later and really, it was not bad! then on "I Love You More Than You'll Ever Know" [by Al Kooper] I was really scared, because it was Donny Hathaway and Amy Winehouse who've done it too. Even though I was the one who chose it, it was very scary, I was all like: "Oh, shit, maybe I shouldn't sing it!" But I really believe that I really delivered the most important song for me in the album and that was "Strange Fruit" [by Billie Holiday]. I think the only reason why I was feeling very proud of what I did on that song was because I admired the courage of the writer who wrote that song. Obviously, I am not black, no one in my family has been a slave, so I couldn't sing it from that perspective, no way! But I could sing it from the perspective of compassion and respect for the writer. So that's what I've tried to do and I was really proud of that. So there're a few songs I feel good about, some songs I think like "Oh my God, what am I doing", but after listening after a thousand times now, I was like — it's ok!
Well, it's like your child in a way…
Well, it doesn't become my child so much, because these are covers. It couldn't ever become my child, because I didn't write it. It can be like a way for me to bow down and show the rest of the world my utmost respect for these writers and singers. That's how I look at what it is. They've come way above me and before me with the songwriting that I would never achieve, never could write on that level. So that's my way of showing who are my heroes, who influenced me, to say thank you!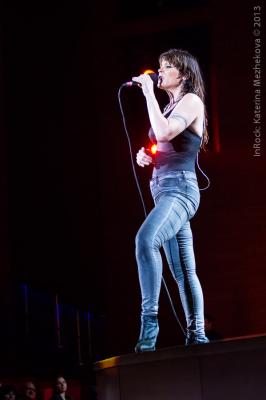 Yeah, so we can hope that would be another one at some point?
Yeah. We just did several shows together with Joe, with the original band that did those 2 records. Then we filmed the last 2 shows in the Theatre in Holland, we made a DVD. ("Beth Hart and Joe Bonamassa: Live in Amsterdam" is out March 25, 2014) So I've heard when we are done with that we probably gonna make another one. And I'll be doing another solo album — that's set for 2014. I supposed to do another album, but now I should take care of myself a bit more now, so I told my manager to push it down. The plan is to take 3-4 songs original and the rest would be covers, but it's with the people who are very legendary producers. I'm trying to talk them to let me go very jazz, 'cause I've never done that and I know I can do it. That's good in terms of learning and growing. But I don't know if it's good in terms of sales. But for me, that's what I wanna do, because it would be challenging and fresh!
Yeah, you have to put challenging goals for yourself…
Oh, you are f*cked! Completely! You will die away doing the same thing. Extinct comfortable! I think being comfortable as an artist is the most dangerous thing you can do! You are resting on your loyals, you are not taking chances, you are not being scared. You have to be willing to suck. If you are comfortable, you think: hey, why should I try hard, I'm already doing pretty good! And you stop and you die, because people that are interested in you will become bored! They'll move on to some fresh new name that's doing it better than you are doing. Especially when people are young and starting out as artists, they are not that deep as an artist, but what they do have is ahead of people that are older. Not all people that are older, but those who get comfortable and lazy in their work. Young people — it's all fresh to them and they have so much to prove and they feel like nothing. So they put everything into it! And you get that — from their records, their songwriting, their performances on stage, from their look, from everything. But if they don't continue to challenge themselves as they get older, they would be told that their earlier work is better. Like "Arrgh, you should have heard them in the beginning", but they were not any better in the beginning, they were hungry, they had something to prove, they were scared, because it was dangerous. And that's our job as we get older to constantly put ourselves in that position. I didn't realise that until I started getting really comfortable. Then I went scared: "What am I doing?! I have to challenge myself!" And I didn't know what to do! I was just sitting there and I said to my manager: "I'm not gonna sing anymore, cause I would just be lying. I have to believe in what I do, I have to be excited. And I'm not". So I was just sitting around twiddling my thumbs and then Joe asked me to do "Don't Explain" and that's when I got excited again! That was how I was able to write "Bang! Bang! Boom! Boom!" I was so excited to do something different with Joe, and I didn't know if I can do it! That's the best, the healthiest thing I could have done! It doesn't mean that the album would be great, but it means that I would be giving something fresh!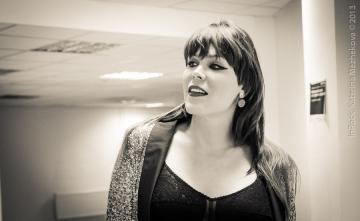 And may be for women in music, in art, it may be even a double danger, 'cause when you are happy in your family life, you tend to go to the comfy zone, but you still have to prove yourself as an artist.
Or you can compare it to this: when you get married, you look great, you take care of yourself and you attract a man into your life! He falls in love with you, you get married, you have a child and you let yourself go. You don't put make-up anymore, you don't work out, you don't fuck him, you just take care of the children! What happens?!…. And I saw that happens with my mother. But my fear is that I'll drive my husband